Get Rid Of Useless Programs And Clear Out Excess Junk
PC Booster removes unused files from your system allowing your PC to run faster. It identifies hidden junk files and other temporary files that are no longer needed by Windows but can clog up your system. and waste valuable disk space. With PC Booster you can reclaim valuable disk space and keep your PC less fragmented.
How Does PC Booster Clean Up Windows?

Identify and eliminate many different file types that are not needed
Eliminate old application files and programs that are no longer useful
Removes temporary internet files that are simply taking up valuable space
Increase available hard disk space and creates a more efficient processing environment
You can perform a full system analysis and optimization task in a matter of minutes, and your PC will be back up and running efficiently and effectively.

Over time Windows becomes clogged with all types of clutter, driving down your PC's speed, wasting hard drive space and creating an inefficient environment.
PC Booster removes hundreds of redundant Windows update junk files, internet tracks and irrelevant installer remnants, boosting your PC's efficiency and speed
Build Up Of System Clutter Can Degrade PC Performance
As your computer ages you'll find that more and more abandoned files and unwanted or unneeded programs and services that remain on your PC. This will create excess waste on your PC that will hog critical system resources that are needed for other more important files, programs, and services.
The effects of clutter can takes its toll on system performance in three ways: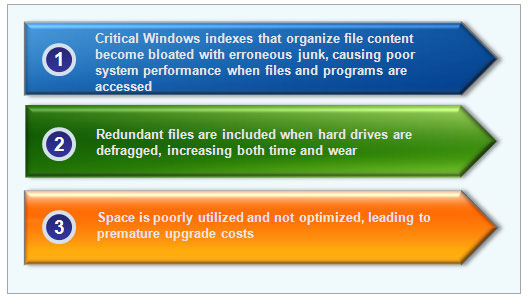 When you have excess waste on your PC, you are reducing the performance capabilities of your computer because this waste steals valuable resources that are needed elsewhere. This waste will effectively take up available memory space and increase workload on overloaded on your processors.
When you use PC Booster you will be able to get rid of excess waste and enhance the performance of your PC. This will create a much faster and more efficient Windows environment that you can enjoy.
Remove All Junk Files And Automatically Keep Windows In Optimum Condition
PC Booster provides the most comprehensive approach to PC care. PC Booster integrates over a dozen diagnostic, repair and optimization tools into a simple and easy to use. It also uses cutting edge PC Tune-up technology developed by PC Booster's team who continuously update their research and white lists to ensure your system is optimized.

However, you don't need to be a computer expert to get the most out of PC Booster and speed up your PC:

Over 95% of PC issues are caused by invalid settings and clutter caused by everyday PC usage.
PC Booster carefully repairs and cleans out junk and tunes up your system to ensure it runs just like new!
Go Faster, Prevent Crashes and Extend the Life of Your PC
Finally you can enjoy your PC, no matter what your experience level. PC Booster can ensure you have a truly revitalized, just like new system, since it makes fixing and tuning your PC quick and convenient - put simply - it does the job!

Clean My PC
Keep Your PC tuned as new with easy maintenance

Improve Stability
Repair and clean files that may slow down your PC

Speedup My PC
Unclog bottlenecks which drag down your PC's speed

Improve Performance
Faster start-up and reduce shutdown speeds

Extend PC Life
Save money, revive and renew PC life

Privacy
Permanently erase your Internet activity and unwanted files