Maintain Performance
PC maintenance can be a daunting task for the average computer user. However with PC Booster, you don't need to be an expert. The program is an easy to use PC optimizer that will guide you every step of the way for stress-free computing!

Regular maintenance of your PC can prevent issues that result from junk files, registry damage and faulty settings caused by everyday usage. Manual maintenance can be complex and time consuming. With PC Booster, its easy with our 1click Scan Now setting

One click Scan Now Maintenance
Automatically schedule everyday maintenance
Increases PC performance and reduces system clutter
Runs silently in the background
Automatically cleans your PC when idle
PC Booster includes precision tool to repair, cleans out clutter, optimize Internet and download speeds, ensures personal privacy, and boost PC performance
---

Optimize System Start-up and Shutdown
Improves system start-up and shutdown times
Turn-off un-needed programs and improve resources
Disable unnecessary Windows processes
Improve PC boot up speed
PC Booster allows complete control of which programs load on start-up of your PC. By eliminating unnecessary or malicious programs from your start-up, you can accelerate boot-up and shutdown of your PC. PC Booster provides detailed information about each program and you can easily decide if its essential, unneeded or optional
---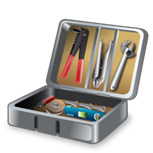 Shortcut Repair
Eliminate invalid shortcuts
Delete orphaned or unnecessary files
Stop annoying messages caused by broken shortcuts
PC Booster hunts down invalid short-cuts on your PC such as Recent Items or playlists. Once isolated, these invalid short-cuts are deleted, allowing faster loading of programs, Start menu and Quick launch bar and overall stability of your PC.
---

Optimize your Registry and Speed Up Your PC!
Safely clean the registry
Removes obsolete or repairs any unnecessary or corrupted entries
Easy backup options
Normal usage of your PC such as installing and uninstalling software, missing or corrupt drivers, surfing the Internet can create unwanted surplus data in the registry. PC Booster will safely clean, repair and optimize your PC's registry to accelerate your computer, fix Windows messages, stop crashes and improve system performance
Issues in the registry are common causes of Windows crashes, slow performance and system messages. By cleaning out the registry, your system will be more stable and system performance will improve without costly upgrades
PC Booster's registry cleaner identifies, removes obsolete or repairs any unnecessary or corrupted entries using a high performance detection algorithm. For your safety and convenience, PC Booster makes two backups, so that can you easily recover any changes if required.